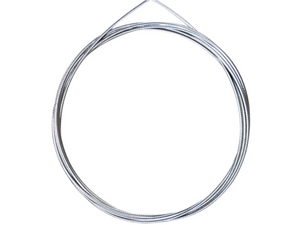 ⚡️ 10% off the price of cables when purchasing 2 or more, use code 'CABLES' ⚡️ 
Uncoated replacement cables for your Rx Evo Speed Rope or Original RX Jump Rope. All you need to do is to choose your desired cable length and weight from the options above. These are lightest cables for the RX and are only for advanced users. It is recommended to progress from Buff to Hyper before using one of these. 
Refer to our SIZING GUIDE for more details on how to choose the most appropriate cable length and weight.
Jump Rope bags are available here

If a particular weight/size is out of stock, then please message us at jump@doperopes.co.uk to check on wait times as we get stock in regularly. 
These cables are NOT recommended for use on hard abrasive surfaces (such as paving slabs, concrete or tarmac). Please refer to our care page and rope care blog post before use. Please use a yoga/rubber mat if being used outside or jump indoors on a soft gym floor or non-abrasive surface. Please note that the RX Smart Gear warranty is void if used on hard surfaces.
Make sure to check out our instructions and care page and beginners guide before you start using your rope which gives you info on how to adjust our ropes and how to get started!
⚠️ Jump ropes can and will sting on impact! Use at your own risk ⚠️ 
Just fantastic- fingers groves really help.
Fantastic rope - has really helped be master double under .... weights is perfect for new crossfitters ..
Great product and customer service
Product is very good and customer service was excellent when Evri lost my order.
Overpriced cheap feeling
The items I was looking forward to getting for a while. Expensive for a jump rope I was expecting quality. The handles are trash hollow bits of plastic that feel really fragile and mark super easily. The loose flopping split ring that's a pain to use making changing of cables a nightmare. Overall really disappointing. I found the rope really unresponsive even with the heaviest cable and slow. Crossover's basically impossible due to the slack in the handle cable connection. Really underwhelming and after using for a couple weeks I've bought a replacement pvc jump rope again…. "If it ain't broke" dope ropes is a great shop the shipping is pretty shocking and overpriced for a A4 envelope. But they sell quality items…. Just not this one! The cables that go with this jump rope are pretty solid but the handles are rubbish! Do not buy even if all you want is double unders "all this is good for" just get yourself a pvc rope cheap and works the best!
Top class
Super rope. Fast delivery and great customer service