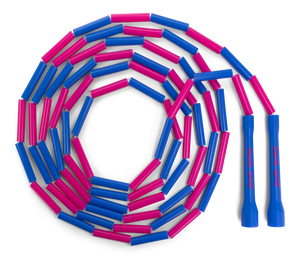 A pair of 14ft short handle beaded jump ropes for use in double dutch skipping.  A great way to skip with friends and family.
SPECIFICATIONS
2x jump ropes
Cord length -14ft
Bead width - 2 inch
Blue Handles with Blue & Pink Beads
High quality shatter proof plastic hard beads. Hand beaded in the USA! Note that beads will scratch and get scuffed when used on harsh surfaces but this does not affect the functionality of the rope and the beads themselves only wear down over a long period of time due to slow erosion.

5" Short Dope Ropes Elite Handles: Unbreakable low-density polyethylene contoured to fit your hand.  These handles also come with a lifetime guarantee! We are so confident in our handles that if they break, we will replace them one time for free!